The Best Metals at the Best Price
Do you purchase our metals frequently? If so, you may qualify for our Metals Club. Membership is free, and you save on every metals order.
Receive volume pricing on all metals purchases: casting grain, sheet, wire, sizing stock, tubing, and solders.
Order only what you need, when you need it, and you still receive the price* benefit with no minimum purchase amount.
Increase your price benefit as you increase your average monthly purchases from 20 dwt up to 2,000 dwt.
Get 50% off all refining fees when you use our Metals Clean Scrap Program.
Regardless of what the gold market is today, tomorrow, or next month, your savings per dwt will always be the same.
You must login or sign up to access this content
How Do You Determine My Eligibility?
When you become a member, we review your gold, silver, and platinum purchases for the previous six months. If you purchase an average of 20 dwt per month, you are eligible for membership.
We will place you at the appropriate level for you to maximize your savings. For example, at the entry level, you purchase an average of 20 dwt per month during a six-month period. If you are a member and purchase at this level, you will save an average of 15% off of your labor charges.
---
Can I Move to a Higher Level?
As you grow your business, your metals purchases with Stuller will also increase. We evaluate price levels semiannually and make changes accordingly.
Each time you meet the monthly average to move to the next level—20 dwt, 50 dwt, 100 dwt, 200 dwt, 500 dwt, 1,000 dwt, 1,500 dwt, 2,000 dwt, and more—your savings will increase as well, making you more profitable.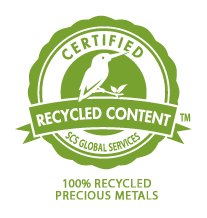 Stuller's has SCS Global Services Certifications in gold, silver, platinum, and palladium meaning we use 100% recycled metals materials in our manufacturing processes.
Learn More >
*Metals Club member price levels are evaluated semiannually and are subject to change according to actual monthly purchase totals. Be sure to order all of your mill, solder and casting grain products from Stuller to increase your profitability and maintain your Metals Club member price level status.